Weddings at Ganstead Park Golf Club
Why not choose the stunning backdrop of Ganstead Park Golf Course for your Wedding Day?  
We are able to accommodate any size of wedding up to 120 and the choice of two function rooms.  We also have a fantastic choice of food and wine and an experienced team who will assist you in having a celebration to remember!  
We cater for all styles of Wedding to suit your budget and have great contacts who can provide those extra touches that make your day special and personal to you.  We offer various packages and can cater for up to 120 with a variety of menus to choose from.  We also offer vegetarian and other special dietary requirements.
For further details and to request our Wedding Brochure with Menus,  please call our Events Team on 01482 811280 or email secretary@gansteadpark.co.uk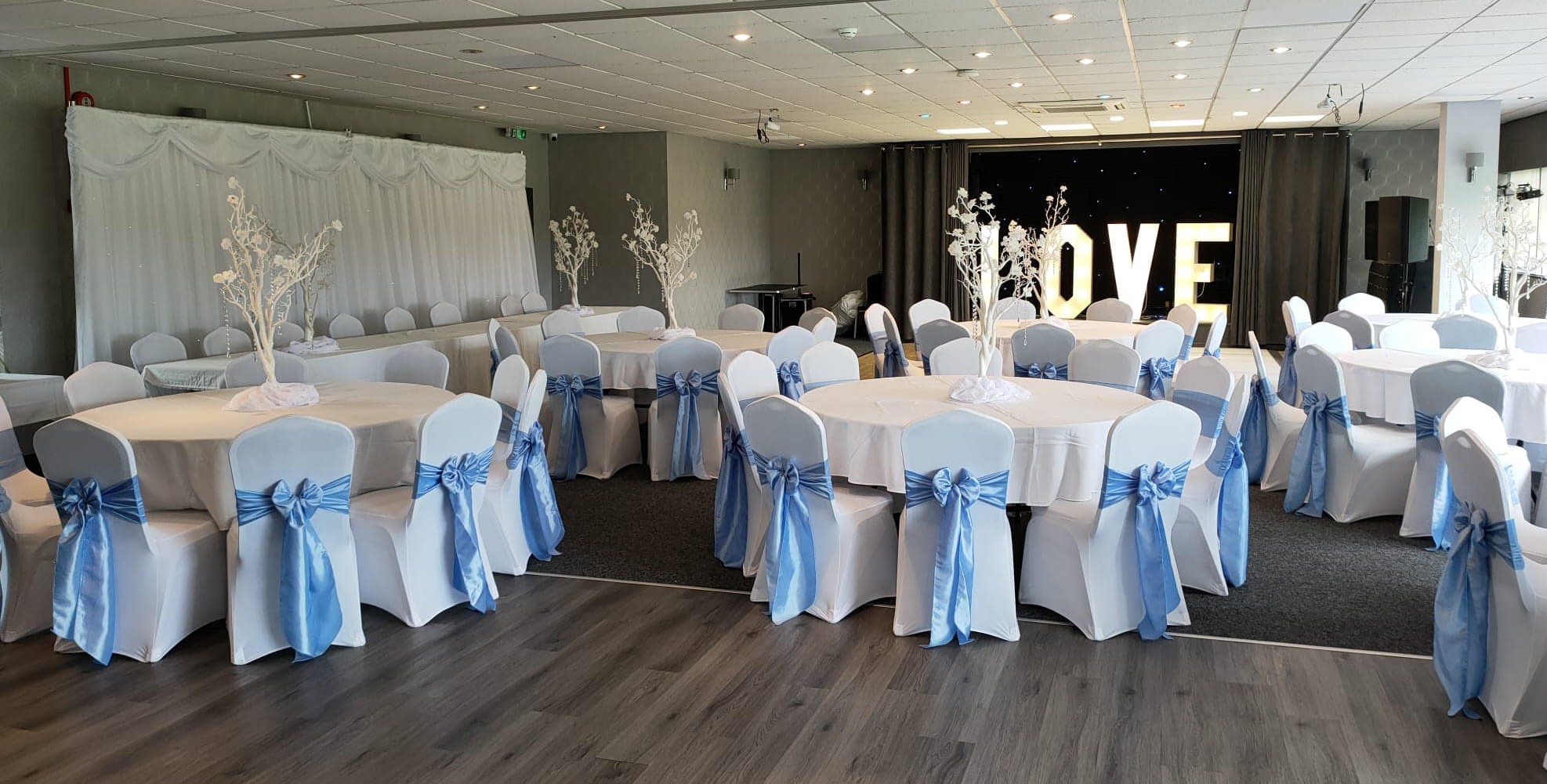 SAMPLE MENU'S
DAN POOLE @PROVIDE KITCHEN IN ASSOCIATION WITH GANSTEAD PARK
PLEASE NOTE – BUFFET MENUS AVAILABLE FOR ALL FUNCTIONS INCLUDING WEDDINGS
***PRICES FOR BUFFET MENUS BY REQUEST – WE CAN ADJUST ALL MENUS ACCORDING TO YOUR BUDGET AND REQUIREMENTS***
BASIC BUFFET
SELECTION OF COLD WRAPS & SANDWICHES
TOMATO & BASIL PESTO QUICHE
CHEESE & CHIVE VOL-AU-VENTS
PORK PIES & PICKLES
CREAMY POTATO SALAD
PURPLE SLAW
CRISPS
THE CLUB HOUSE 
CORONATION CHICKEN WRAPS
PULLED HAM & GHERKIN ROLLS
CHEDDAR CHEESE & RED ONION JAM SANDWICHES
PORK AND SAGE FLAKY SAUSAGE ROLLS
BREADED CHICKEN GOUJONS
CHICKEN CEASER SALAD
TOMATO & BASIL PASTA SALAD
CREAMY POTATO SALAD
ROSEMARY & GARLIC ROASTED POTATOES
THE HOLE IN ONE
HONEY, MUSTARD HAM
TOPSIDE BEEF (MEDIUM)
SALT & PEPPER CHICKEN THIGHS
WARM BREADS
PITTAS & WRAPS
WITH A CHOICE OF
BLACK PUDDING SCOTCH EGGS
MINI MUSTARD GLAZED SAUSAGES
CHEESE TWISTS
GREEK SALAD
TENDERSTEM SLAW
SPICED PEA SALAD
CHORIZO POTATOES
SAMPLE WEDDING MENUS
***ALL PRICES CORRECT AT THE TIME OF PUBLISHING BUT SUBJECT TO SEASONAL CHANGES***
CUPIDS MENU @ £19.95
TO START ….
MARIS PIPER & SPRING ONION SOUP- WARM CRUSTY BREAD ROLL
OR
PRESSED HAM HOCK TERRINE- GHERKINS- MUSTARD MAYONAISE- WARM CRUSTY BREAD ROLL
MAIN
PAN ROAST CHICKEN SUPREME- BRAISED CELERIAC FONDANTS- CRISPY BACON TUILE- SAGE MASHED POTATOES- CHICKEN JUS
OR
SERRANO HAM WRAPPED SALMON- CREAMY KALE- HALLOUMI ROSTI- CHIMICHURRI BUTTER
ALL SERVED WITH HERB ROAST NEW POTATOES- BUTTERED GREEN BEANS- SAUTEED BABY CARROTS
PUDDING
DARK CHOCOLATE BROWNIE- SALTED CARAMEL SAUCE- VANILLA POD ICE CREAM
OR
BANOFFEE CHEESECAKE- SALTED CARAMEL SAUCE- VANILLA POD ICE CREAM
ONCE IN A LIFETIME MENU @ £30
START
HOT SMOKED SALMON- BABY BEETS- SAMPHIRE- BABY PRAWN COCKTAIL- LEMON MAYONAISE
OR
SLICED PORK CARPACIO- CHIMICHURI DRESSED ROCKET- BURNT RED ONION JAM- DICED TOMATO
MAIN
PAN ROAST BEEF FILLET (MEDIUM)- VINE TOMATOES- THYME ROAST BUTTON MUSHROOMS- TRIPLE COOKED CHIPS- GREEN PEPPERCON SAUCE- BUTTERED GARDEN PEAS
OR
GRILLED SEABASS FILLETS- LYONAISE POTATOES- SAUTED BROAD BEANS- MUSSEL BIANCO- CREAMY NUTMEG SPINACH
PUDDING
TARTE AU CITRON- GINGERBREAD ICE CREAM- PISTACIO CRUMB
OR
MELT IN MIDDLE CHOCOLATE PUDDING- VANILLA POD ICE CREAM- SALTED CARAMEL
DAN POOLE – PROVIDE KITCHEN @ GANSTEAD PARK GOLF CLUB
AT GANSTEAD PARK WE ARE PROUD TO PARTNER THE TEAM AT PROVIDE KITCHEN.
THE TEAM ARE DEDICATED TO USING ONLY THE BEST, FRESHEST AND LOCAL INGREDIENTS.
WE SET HIGH STANDARDS TO MAKE YOU EVENT AS SPECIAL AS IT CAN BE.
AS WELL AS THE MENUS IN OUR BROUCHURE PROVIDE KITCHEN PRIDES ITSELF ON A SLIGHTLY DIFFERENT, MODERN STYLE OF CATERING WERE BY DANNY AND THE TEAM BUILD YOU A MENU BESPOKE TO YOUR BUDGET AND REQUIREMENTS.
WE ARE EXCITED TO HOST YOUR EVENT SO PLEASE CONTACT US TODAY.